How to Protect Your Child
Be calm and confident when speaking with your child.
Let your child know you are there for them and always want to protect them.
Teach your child about their body parts that are private. Let them know to come to you if anyone tries to touch or see those parts.
Allow time for the child to process and ask you questions.
Have your child identify 5 safe adults they can talk to if someone ever makes them feel uncomfortable.
Make talking with your child about personal safety an ongoing dialogue rather than a single conversation.

Pay Attention and Ask Questions

It's important not to interrogate children. Ask simple, open ended questions in a calm voice. "Has anyone ever made you feel uncomfortable or scared? Has anyone asked you to keep a secret or not to tell about something?"
Watch for changes in your child's behavior. If your child is reluctant to go certain places or to be with certain people, ask questions.
Notice their behavior after spending time with another adult or child.

Please do not interview children or contact the alleged offender. Report your suspicions and let the appropriate authorities investigate.
To make a report of known or suspected abuse, call 911 and 1-855-GACHILD immediately.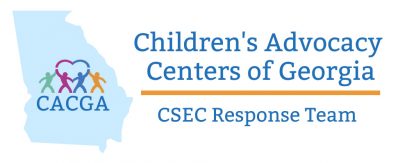 Trafficking Hotline – 1-866-END-HTGA (363-4842)